What do you think of when you think of a boardgame?

Crushing strategies?
Overwhelming the opposition?
Manipulating the rules to your benefit?
Proving your mental superiority over others?


- NOT IN THIS GAME! -

Instead, what if a game was about:

Beauty?
Creativity?
Cooperation?
Personal Perception?


Introducing....
MEZMO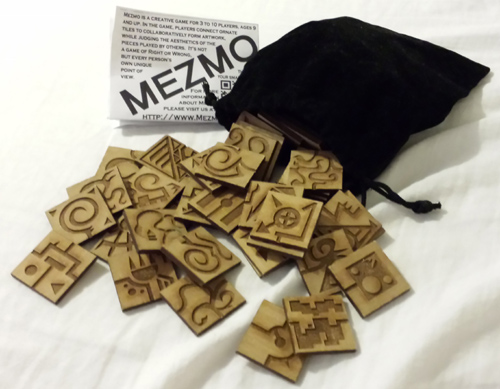 Mezmo is unique a cooperative game of art creation for 3 to 10 players.
In the game players attempt connect tiles that appeal to their fellow players,
well judging the moves played by others. There is no singular Right or
Wrong answer, just the viewpoints of yourself and your fellow game players.

Mezmo is a game unlike anything you've ever played before, where players
must constrain themselves to not be too helpful to their opposition. It's a
friendly game based on creativity, perception, and discussion. It takes
moments to learn, but will inspire hours of conversation and thought.

Mezmo is available in:
MDF (Fiber Board, pictured above) - $20 (plus $5 Shipping/Handling)
Black Acrylic (pictured below) - $35 (plus $5 Shipping/Handling)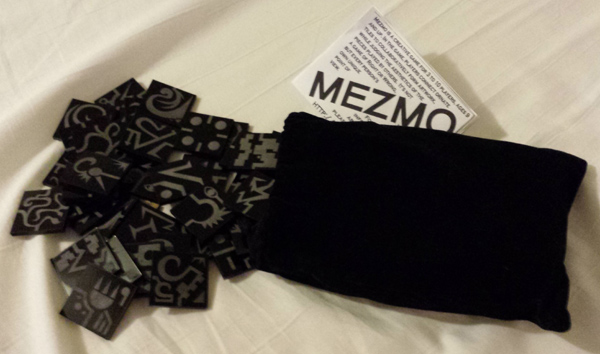 You can order a copy though Lyris Laser Studios (Click here to Purchase)
Mezmo includes 81 laser cut tiles, 1 velvet bag, and 1 instructional page.
Check out the Game Rules here:


For more unique and unusual games,
please visit my "hub" page:

Return to the World Wide Chaos Inc. Main Page